This article explains how to roll an existing service agreement over to a new agreement that includes the same categories and line items.
The rollover feature enables you to:
keep using the same services for a new funding period
change the funding management after you've extracted and claimed service delivered (SD) records, and/or
extend a client's leftover funding into a new funding period.
Rolling an agreement over means you won't need to spend time adding all of the categories and line items to a new agreement.
Rollover can be used for NDIS, individual grant, block or other type service agreements.
Before you begin…
There are a few things to consider before you roll over a service agreement:
service agreements can only be rolled over from a status of Current
your original service agreement's status will change to Rollover
you can keep delivering services against the original service agreement until it passes its end date and its status changes to Expired. However, this won't update balances on your new agreement.
service agreement items on the new agreement will have the same rates as the original service agreement unless you change them after rolling over
appointments (sessions, jobs, bed allocations) won't be updated to use services from the new service agreement
if you're automatically generating SD records from the old agreement, you'll need to set up new schedules on the new service agreement, and
if you're rolling over a block agreement, only funded clients without an end date will be rolled over onto the new agreement.
To roll over a service agreement:
Go to the service agreement you want to rollover.
Click on the Rollover button.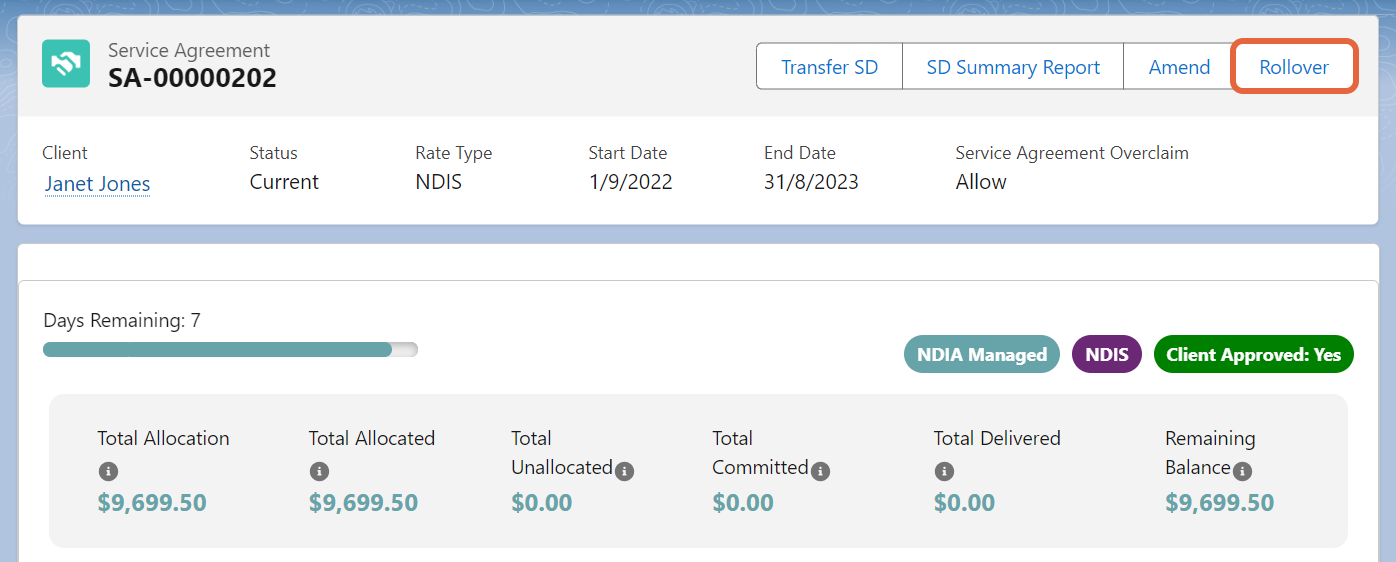 Enter the start date and end date for the new service agreement.
The new agreement's start date must be later than the original service agreement's start date. The original service agreement's end date will be updated to match the new agreement's start date minus one day.
Set the Total Allocation Limit. This field will show the remaining balance of the original agreement, unless that agreement's total allocation is blank or negative:

If it's blank, this field will also be blank.
If it's negative, this field will be set to $0.00.



Select an Overclaim option. If you choose Prevent or Warn, you'll need to make sure the total allocation limit is greater or equal to the remaining balance on the original service agreement.
Select a Funding Management option and, if required, Funding Manager.
Set Assign New Service Agreement Number to Yes if you want the new service agreement to have a different service agreement number.
For an NDIS service agreement, you'll have the option to update consents and charges. Set Same Consents and Charges to No if you want to change consents or charges from the original service agreement.
Click on the Next button.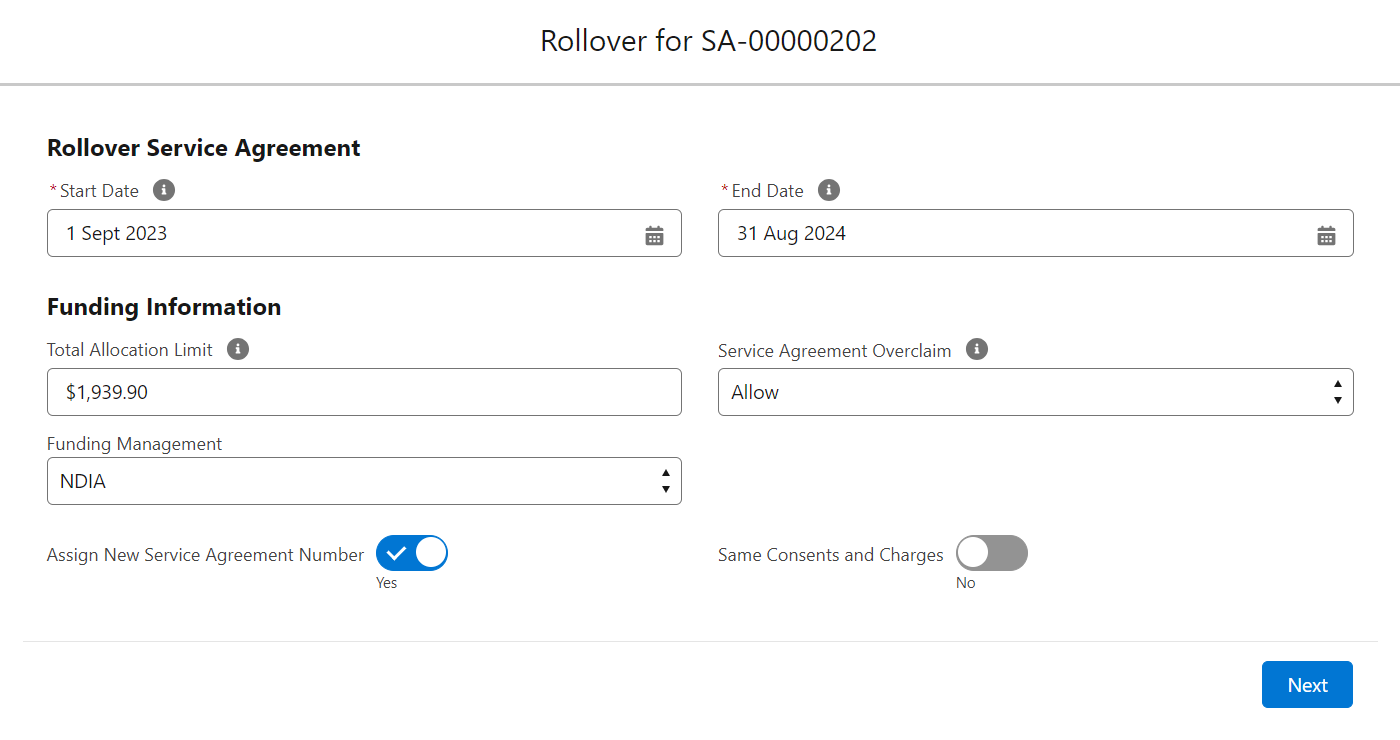 If you chose not to use the same consents and charges, you'll be presented with consent and charges options. The options here are the same as when you set up a new NDIS service agreement. Once you're happy with your settings, click on the Next button.
This will create a new version of the service agreement.
Scroll down to the Service Agreement Item section to review the categories and service agreement items. These allocations will use the remaining balances from the original agreement. You may need to increase them to match new funding amounts.
Amounts that were overclaimed on the previous agreement will show $0.00 values under Allocated to Services, Quantity and Total. You may need to adjust the allocation for those services.
If you're rolling over a block service agreement, you can also click on the Funded Clients tab to check the details of your funded clients or to add new funded clients.
For NDIS, individual grant and other agreements, once you've included all of the required categories and items, you can finalise the agreement by generating a quote and capturing the client's approval.