This article explains how to create service delivered (SD) records for services for a group of clients that have DEX-reported funding.
The following process explains how the events Calendar can be used to generate service delivered (SD) records for a group of clients with DEX-reported funding. Fields relevant to DEX reporting have been added to the group events form. To meet DEX reporting requirements, additional steps may be required for services recorded directly through the Sessions Calendar or Beds Calendar.
To create appointments for a group of clients:
Click on the Calendar tab. You may need to search for this under the More tab or App Launcher.
Click on the New Event button.

In the New Event form, select the record type Group.
Click on the Next button.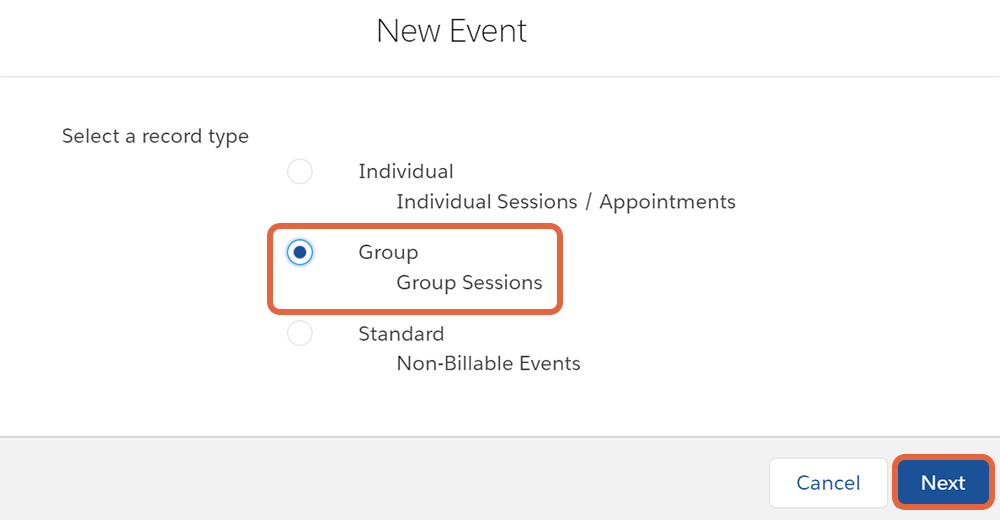 In the Name field, start typing the name of a client who will attend the event. As you type, a picklist should appear that will allow you to click on the relevant client to add them. Repeat this step until you have added all of the clients who will attend the event.
To be included in a DEX extract, clients must have a Personal Identifier record of the type DEX Client ID. Learn how to add a DEX client ID.
Click in the Subject field. You can either create a new subject or start typing and select from an existing subject.
Check the Start Date and Time and the End Date and Time. Make any adjustments to ensure that the session is scheduled for the correct duration.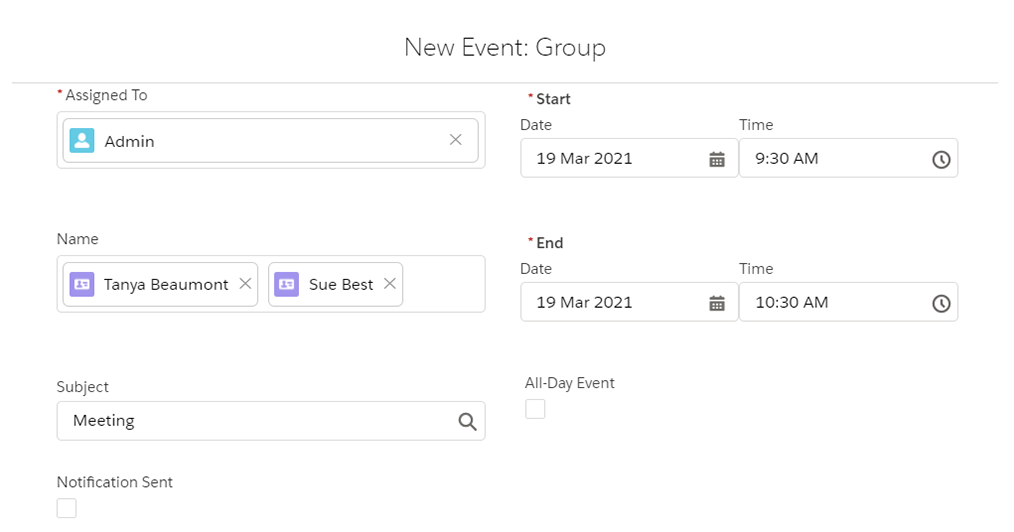 In the Service Details section, enter the Other Service that represents the DEX Service Type for the session.

The service record must have DEX Service Type populated to ensure that it appears in the extract.
In the Location Details section, add a Site to the Site Visit field.

Fill in the Event Details section as required by your organisation.

Enter the number of Unidentified Clients in the Total Unidentified Clients field. Enter 0 if there are none.
Select whether or not an interpreter was or will be present in the Interpreter Present field.
Select the Topic of the appointment from the dropdown menu.
Click on the Save button.

The group event will now appear in the Calendar.

Creating an event will also create a session, which will appear on each client's calendar. Once the session is set to Complete, service delivered (SD) records will be created and ready to include on a DEX extract.