Lumary AH - This article explains how to log into the Help Centre so that you can make support requests.
Your Help Centre account is not the same as the Salesforce login you use to access the Lumary system. If you're unable to log in, you may need to sign up to the Help Centre.
When you log into the Help Centre, you'll gain access to additional support material, including advice about how to make a support request.
To log into the Lumary Help Centre:
Click on the Sign in text link that appears at the top of each Help Centre page.

This will open the Sign in to Lumary panel. If you use a Google account for your company email, you may be able to use this to Sign in with Google. Otherwise, enter your email address and password for the Help Centre. Remember, this is not the same as your Salesforce login. Click on the Sign in button.
If you haven't received a Help Centre password, you may need to use the Get a password text link.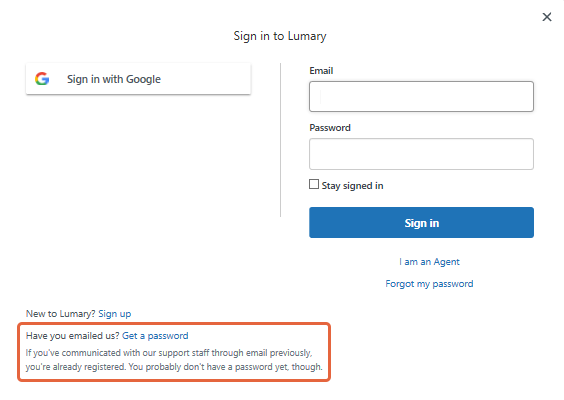 Once you log in, you'll be able to access additional articles that will help you make a Lumary AH support request.