This article indicates Lumary's progress with the integration of the NDIA's application programming interfaces (APIs) to enable the automation of NDIA funding claims. It also explains how the APIs we've requested will benefit service providers.
Current status: Seeking development access from the NDIA / Exploring partnership opportunity
Update - 12/5/2021
We have started trialling a minimum viable product (MVP) version of the API integration solution with a small group of customers. This version gives customers the ability to automate NDIA service bookings. The ability to automate claiming is currently still in development. If you're interested in participating in the trial, please contact Rick Russo at rick.russo@lumary.com.au.
---
Update - 21/10/2020
To fast track access to the APIs for our customers, we've been exploring an opportunity to partner with another organisation. This organisation has already built an integration to the NDIA APIs for a service provider, and are looking for opportunities to extend this offering to other service providers. Their solution operates on the Jitterbit platform.
While we explore this opportunity, we'll continue to work with the NDIA to gain direct access to the APIs.
---
Introduction to NDIA API integration
The NDIA recently made it possible for software developers that work with registered providers to register for API access. To ensure the security of their systems and data, the NDIA requires software providers to meet several conditions before gaining access to connect to NDIA systems. We're currently working through these requirements to ensure that we provide an appropriate level of access and security for all customers that require NDIA API integration.
Once we've negotiated access through the NDIA, we'll publish updates and links on this page to explain how this functionality will be made available to customers and how to use it.
The APIs we've requested include:
Payment Request Creation Single
Payment Request Creation Batch
Payment Request List All
Payment Request List Specific
Service Booking Creation
Service Booking Update Quantity and Amount
Service Booking Extend End Date
Service Booking Reduce End Date
Service Booking Update Status
Service Booking List All
Service Booking List Specific
Service Booking Delete
Reference Data All
Reference Data Attribute
Reference Data Subattribute, and
Product Catalogue View.
---
Benefits
Claiming funds from the NDIA currently involves the generation of an extract from Lumary CM that providers then submit to the myplace portal. Once their claim is processed, providers then upload the NDIA's response and check for claims that failed.
The APIs we've requested will enable Lumary CM to send this information directly to the NDIA's myplace provider portal, and for the portal to automatically send the response. The following diagram shows the proposed points where information will be able to be transferred between the two systems.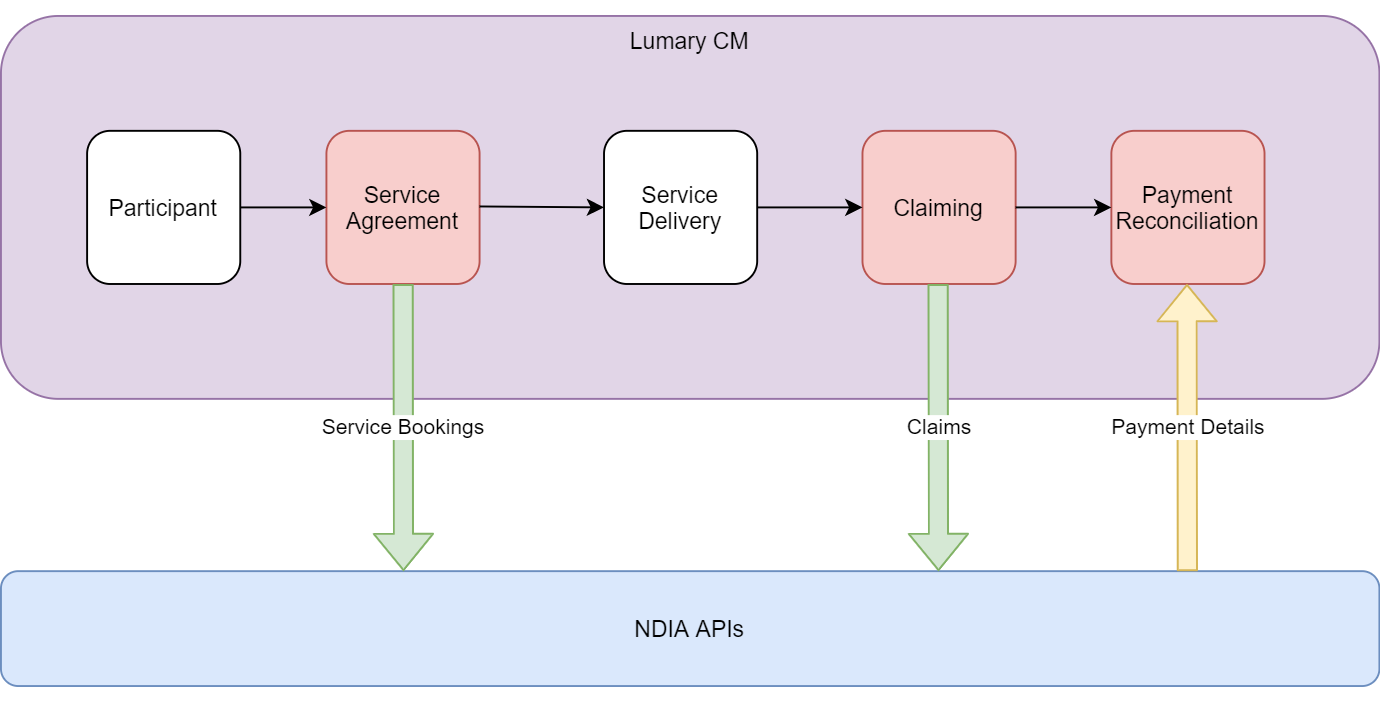 By automating the claiming process, API integration will:
reduce the amount of time required to generate and check claims
improve data security by removing steps that require the downloading and uploading of claim information, and
improve the currency and accuracy of claim information stored on Lumary CM.