This article explains how to grant another user access to a report.
To share reports with other users, they'll need to be given access to the folder that the reports are located in.
To share a report folder:
Click on the Reports tab.
Scroll down to the FOLDERS section of the side navigation menu and click on All Folders.
Navigate to the folder that you want to share and click on the arrow at the end of that row.
Select Share from the drop-down menu.

In the pop up window, select who you want to share the folder with from the Share With drop-down. This may be particular Users, Roles, Roles and Subordinates, or Public Groups.
Add the specific names of those that you want to share the folder with in the Names field.
In the Access field, select whether those that are being given access to the folder can View, Edit or Manage the reports within the folder.
Click on the Share button to share the reports contained in the folder.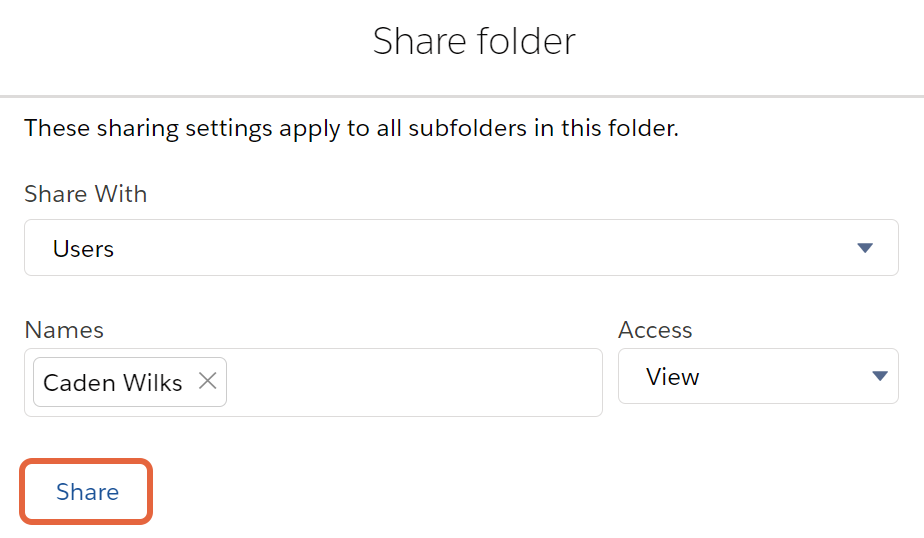 Your selections will appear on the list in the Who Can Access section. You can remove unwanted selections by clicking on the cross at the end of the row and then clicking on the Stop Sharing button in the popup window.
Once you're happy with your selections, click on the Done button to close the Share folder form.