This article explains how to use some of Lumary's different search options. It also explains how you can use your browser navigation to get around.
There are a few different ways to search in Lumary. They include:
global search, which appears at the top of most pages, and
list search, which appears in list views and is limited to currently listed records.
You can also get around using your browser navigation.
---
Global search
Global search is the search field that appears at the top of most pages. It lets you search across the system for any type of record using the information you have available, such as client names, account names, phone numbers or email addresses.
To search:
Click in the Search field at the top of the screen. Items you've recently accessed will appear in a list below the search field.

As you type your query, top matching results will begin to appear. You can either click on one of the listed options or press your Enter or Return key to view a full list of results.

You can also limit your search by clicking on the All drop-down list and selecting an item.
When you press Enter or Return, you'll be taken to a Search Results page. This will list the Top Results, which are the most relevant records for the topics you use the most.
You can use the options in the left menu panel to filter the search results by topic.
Click on the relevant text link to open a record.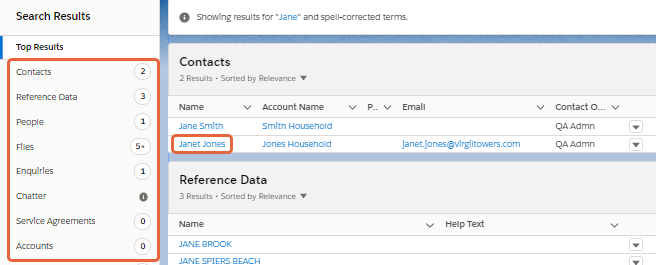 ---
List search
Some navigation tabs will take you to a list view. List views have a context-sensitive search field that allows you to search within the current list.
To search a list:
Click on a tab or launcher item to navigate to the relevant part of the system.
Click in the Search this list... field.
Type your query and press the Enter or Return key.

If you can't find what you're looking for in a list search, make sure that your list isn't being filtered. Find out more about how to find your record in a list view.
---
Browse
In most parts of Lumary, you can navigate using your browser navigation like any other web page. You can use the forward, back and refresh buttons, or open items or records in separate tabs.

Be careful! Some forms save automatically, but most require you to click Save or some other confirmation button. Check carefully before navigating away from unsaved records, as you could lose information.