This article explains how to raise any issues you discover when testing a new release in your sandbox.
When you test a new release in your sandbox, you may discover issues that you need to raise with our Customer Success Team.
This article explains:
Your issue may have been raised by other users. Check out our list of Known Issues to see if other users have discovered the same problem.
---
Issues that will be considered during a release
Not all issues will be relevant to a release. Some may be caused by customisations or could be considered feature requests. The types of issues to look for during a release include problems caused by conflicts with:
existing Lumary functionality, or
supported Lumary partner applications, such as Skedulo, easyemployer, MYOB, Xero or Formstack.
Issues with customisations or feature requests can be raised but will not be addressed during a current release cycle.
---
How to raise an issue
Issues with a release should be raised through the Lumary Help Centre. If you've never raised an issue before, you may need to sign up to the Help Centre.
Once you're signed up and logged in, please use the following options to report a release issue:
Click on the Submit a request text link at the top of the page.
Click in the drop-down list and select Support Request.
This will display the support request form fields. In the CC field, you can add co-workers or other stakeholders to your request.

In the Type field, select Incident.
If the Priority field appears, select Urgent.
In the Subject field, include a prefix with the version of the release that you're testing, for example, Lumary 15 - Service agreement line items.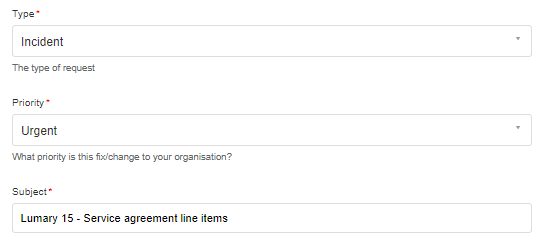 In the Description field, provide a brief outline of the issue that you've identified.
Set the Environment Type to Sandbox.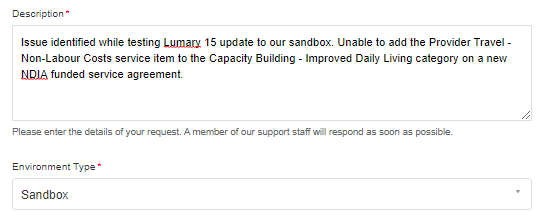 Add your Environment Org ID. This is the number Salesforce uses to identify your sandbox. To find this number:

Click on the gear icon and select Setup.
Use the Quick Find field to find Company Information.
Look for the Salesforce.com Organization ID.

Fill out the Steps to Reproduce, Expected Outcome and Actual Outcome fields.
Use the Attachments field to upload any screenshots that will help the Customer Success Team understand the issue.
Once you've completed all of the mandatory fields, click on the Submit button.

You'll be taken to your new ticket, which will include a unique

Id

number. Make sure you quote this number if you follow the issue up via email or phone. You'll also receive an email notification that your ticket has been received.
Find out more about what to include on a support request.