This article provides an introduction to using the Beds Calendar to book and manage accommodation. It introduces some of the key features of the calendar and explains the colour-coded statuses.
The Beds Calendar is used to manage short-term respite accommodation or long-term supported stays. It includes a range of other settings that can be used to place limits on the gender, age and funding source of clients booking into a particular bed.
Beds Calendar bookings can also be used to deliver services. Adding a service to a booking can automatically create service delivery entries against a client's service agreement.
The Print Calendar button is a handy feature that launches a printable view of your Beds Calendar based on the currently selected date range. To print the full horizontal span of the calendar, you'll need to print on A3 landscape paper from either the Day or Month view. If you don't have an A3 printer, you can print to PDF and then reduce the scale to fit the printable area on most A4 printers.

Like most calendars, the Beds Calendar includes filters. This lets you reduce your view to specific clients, bed types, sites, regions and other criteria. This can help save time if you have a lot of beds and you need to check a specific type of accommodation.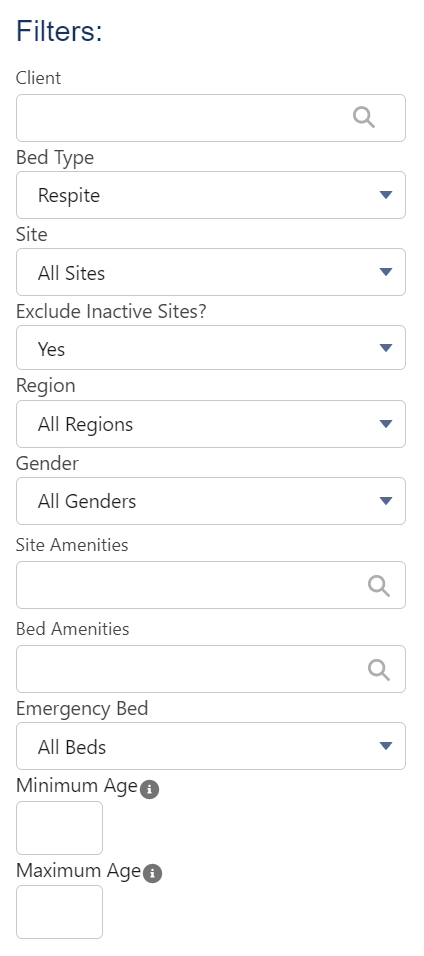 ---
Booking statuses and colour codes
Calendar entries are colour-coded so that you can see the status of a booking at a glance.
| | | |
| --- | --- | --- |
| Colour | Status | What it means |
| Yellow | Pending | Client is assigned to a bed but is not yet confirmed |
| Green | Confirmed | Client has had confirmation that they will be in a bed |
| Orange | On hold | Client is assigned to the bed but is currently away or the bed is being held for the client |
| Blue | Current | Client is currently in the bed, including today's date |
| Grey | Complete | Client was in the bed for the allocated time |
| Red | Cancelled | Client has been cancelled from the bed booking |