This article explains how to book a bed using the beds calendar. It also describes site restrictions and blocklist warnings.
The beds calendar is a useful visual tool for adding and managing accommodation bookings. It also provides notifications about site restrictions and blocklisted clients.
To book a bed:
Click on the Beds Calendar tab or click on the App Launcher, scroll down to All Items and click on the Beds Calendar text link.
You can use the filters to reduce the number of beds visible on your calendar. For example, you can use the Site picklist to limit the calendar view to beds available at a particular site.
You can also use the buttons at the top of the calendar to navigate and filter your view to Day, Week or Month.

To make a booking, click on the relevant calendar row and date.
This will open the New Bed Allocation form.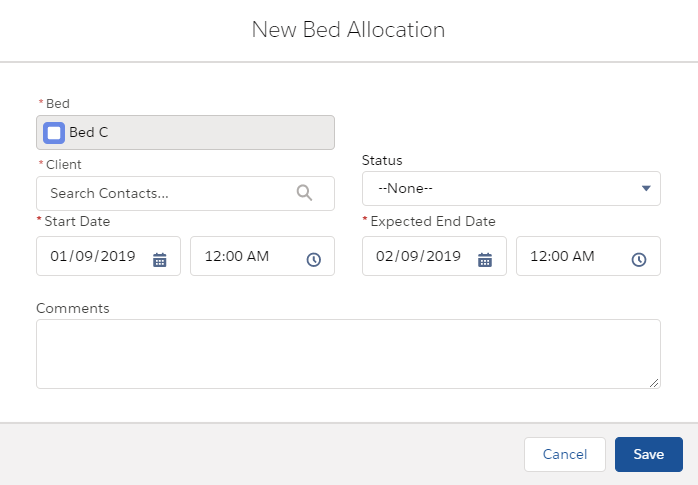 Click in the Client field and start typing the name of your client.
Click on your client's name when it appears.
Set the Start Date and Expected End Date using the calendar and time picklists.
Set the Status of this booking.
| | | |
| --- | --- | --- |
| Colour | Status | What it means |
| Yellow | Pending | Client is assigned to a bed but is not yet confirmed |
| Green | Confirmed | Client has had confirmation that they will be in a bed |
| Orange | On hold | Client is assigned to the bed but is currently away or the bed is being held for the client |
| Blue | Current | Client is currently in the bed, including today's date |
| Grey | Complete | Client was in the bed for the allocated time |
| Red | Cancelled | Client's bed booking has been cancelled |
Click on the Save button.
Site restrictions
If the bed or site has restrictions that prevent this client from being booked in, such as age limits, you will receive an alert.

If there are exceptional circumstances, you can put a tick in the Override Bed and Site restrictions checkbox. You will need to add an explanation for the exception then click on the Save button again.

Blocklist
The system will check for blocklist conflicts between your booking and other clients at the site. An alert will notify you if there are any conflicts, and you may need to consider moving the booking to another site.

Your booking should now appear on the beds calendar.
If your client has a current service agreement, you can now add a service to the booking.