This article explains how to edit a service delivered record before it gets extracted or invoiced.
If you haven't extracted or invoiced a service yet, you can still make changes. For example, you might need to adjust the quantity of the service delivered, or you might need to indicate that the client has accepted the service.
To edit a service delivered record:
Use your preferred approach to find the service delivered record.
If you've navigated to the Service Delivery Entry screen, you can use the pencil icon at the start of the row to launch the edit form. Clicking on the trash can icon will delete the record.

If you've clicked on a service delivered record's name or ID to get to the record, you can scroll to the Extracts section to check whether the record has already been extracted. If it has, an entry will appear alongside one of the extract fields and you won't be able to edit the record. The extract fields you see will depend on what types of extracts your organisation uses.

If your record hasn't been extracted, you can click on the Edit button to launch the edit form. You can also use the Delete button to remove the record. You may need to use the drop-down arrow to find these options.

Once you've navigated to the edit service delivered record form, you can make changes to the relevant fields and then click on the Save button.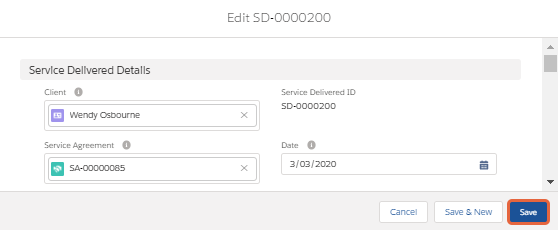 Some settings affect whether your service delivered record appears on an extract. Check out the checklist articles in the claim funds section to find out what's required for different types of extracts.