This article explains how to record consent for the use of a client's personal information or aspects of their care.
The system allows you to record and display information about a client's consent. This ranges from consent to contact them and use their personal information through to critical aspects of their care. For example, it includes consent to share information, as well as consent to call an ambulance.
To add a consent record:
Navigate to the client's contact record under the Contacts tab.
Click on the Legal tab. You might need to use the More drop-down list at the end of the row of tabs to find this option.

Scroll down to the Consents section.
Click on the New button.

This will open the New Consent form. The Client and Status fields will be auto-filled.
Click on the Consent drop-down list to select the type of consent.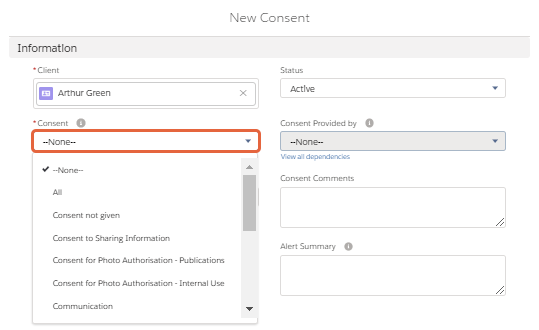 The type of consent will determine what options are available in the Consent Provided by field. If this field is not required, it will not be selectable.
If the client has provided consent to all of the options, you can select All from the list. The Consent Provided by field will auto-fill with Client.
You can use the Method of Consent field to show whether the consent was Written or Verbal and add any Consent Comments in the free text field.

You can notify other workers of the consent by putting a tick in the Display as Alert checkbox.
If you make the consent an alert, you'll also need to a summary to the Alert Summary free text field.

The Opt-Out Communication Types field enables a client to opt-out of specific types of communication. To make a selection, click on the type of communication in the Available list and then click on the right arrow to add it to the Chosen list.

If the consent was provided by someone other than the client, you can add information about this person in the Consent Giver / Decision Maker section of the form.

If the consent required authorisation, you can add the name of the person who authorised the consent to the Authorised By field.
The Consent Date field is mandatory. Click in the field and use the calendar to select a date.
Once you've added all of the relevant information about the consent, click on the Save button.

The new consent will be listed under Consents. To edit this record, click on the drop-down arrow at the end of the row and select Edit.

If you put a tick in the Display as Alert checkbox, an alert summary about the consent will be listed at the top of the record.