This article explains how to create a service delivered record for a cancelled NDIS service using the Service Delivery Entry tab.
If you are not using sessions, or if you need to cancel a service that doesn't have a session, you can do this from the Service Delivery Entry tab. You'll need:
a current service agreement to claim the cancellation against, and
a service that allows cancellation.
To create the service delivered record:
Go to the Service Delivery Entry tab or click on the App Launcher and search for service delivery entry.
Scroll down to the Services Delivered section and click on the Add Service Delivered button.

The Worker field is optional.
Add your client to the Client Name field.
Use the drop-down list to select the Support Category.
Services will either be listed or you can start typing the name of the service into the Service field to list services available in this category. Then click on the relevant service name.
Depending on the characteristics of the service, you may be required to populate additional fields, such as Site, Program, Service Agreement Item and Rate. Mandatory fields will be marked with a

*

red asterisk. Some fields will be auto-filled.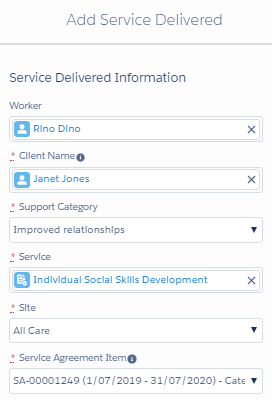 If the service has been set to allow cancellations, you should be able to scroll down to the Claim Type field.
Select Cancellation.
Set the Quantity/Amount. This will usually be in hours, but will depend on the service. It could also be in kilometres or another unit of measure.
Select the Cancellation reason.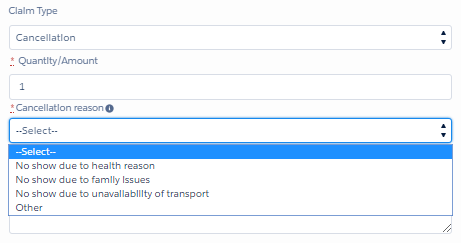 The Cancellation reason options are aligned to the mandatory NDIS codes:
| | |
| --- | --- |
| Cancellation reason | NDIS code |
| No show due to health reasons | NSDH |
| No show due to family issues | NSDF |
| No show due to the unavailability of transport | NSDT |
| No show due to other reason | NSDO |
When an extract for payment request is created for bulk upload to the NDIS provider portal, the extract file will have the Claim type as CANC and the Cancellation reason (NSDH, NSDF, NSDT or NSDO) in the relevant fields.
Enter Comments and/or a Case Note to explain the cancellation.
Tick the Client Accepted checkbox if the client has confirmed the cancellation.
Click on the Save button.
Once you've created the service delivered record, you can review or edit the entry.
To learn more about creating an NDIS extract, refer to the Managing NDIS extracts guide.
If the participant is self-managed: