This article explains how to cancel a client's appointment so that the cancellation can be claimed under the NDIS.
Under the NDIA's rules, cancellation is defined as a "failure to provide:
two clear business days notice for a support or service which is eight hours or less in duration and less than $1,000
five clear business days' notice, in all other cases."
For a session cancellation to be claimed through the NDIS:
the session must include a relevant service from the participant's NDIS plan
the reason must be one of the four eligible reasons under the NDIS.
To cancel a session so that NDIS funding can be claimed, you'll need to cancel it at the client level. To do this:
Go to the Contacts tab.
Navigate to your client. You may need to click on the Recently Viewed drop-down list and select All Clients.
Click on the Calendar tab.
Click on the relevant session.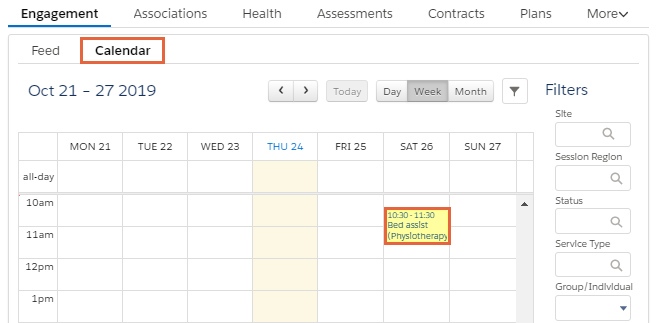 Click on the Clients tab.
To check whether your client has a service linked to this session, click on the row containing your client. Make sure that you do not click on the client's name, as this will take you back to the client's record. Details of the service should appear.

To cancel the service, click on the drop-down arrow at the end of the row containing your client's name.
Select Cancel.

This will open the Cancel Client Appointment window.
Select an option from the Cancellation Reason drop-down list. Make sure this is one of the four reasons that are eligible under the NDIS:
| | |
| --- | --- |
| Cancellation reason | NDIS code |
| No show due to health reasons | NSDH |
| No show due to family issues | NSDF |
| No show due to the unavailability of transport | NSDT |
| No show due to other reason | NSDO |
Set the date and time that the participant cancelled the appointment using the Cancellation Date/Time calendar and drop-down list. The system will apply the rules described above to determine whether the cancellation is eligible for NDIS claiming.
Click on the Confirm Cancellation button.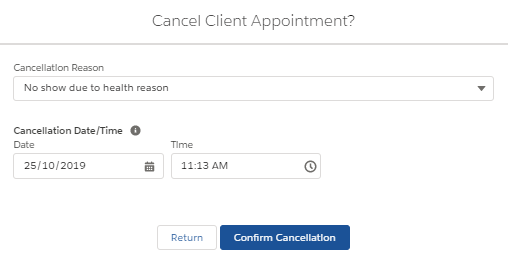 This will update the client's NDIS plan. It will also create a Service Delivered (SD) record. If eligible, the session will be ready to be claimed.
You can also review a client's number of cancellations.