This article explains how the beds calendar uses the unit of measure to calculate service delivery charges, and how to check which unit is currently selected.
The beds calendar uses the unit of measure defined in the rate record to calculate how much to charge for a service delivery. The units of measure are:
Week - which calculates based on how many of the last 7 days the client has been in the bed.
Day - which calculates a full day whenever the service is set against a day for the bed, even if the booking only covers a part of that day.
Each - which calculates a quantity of 1 for the entire period of the bed booking and is charged on the first day of that booking.
Hours - which calculates based on the number of hours that the client is in the bed for the day.
To check which unit of measure is being applied to a rate:
Click on the App Launcher.
Under All Items, click on the Services text link.
Click on the name of the service you would like to check.
Click on the Related tab.
The Unit of Measure is listed beside each rate name. You can click on the rate name or use the drop down menu at the end of the row to edit the rate settings.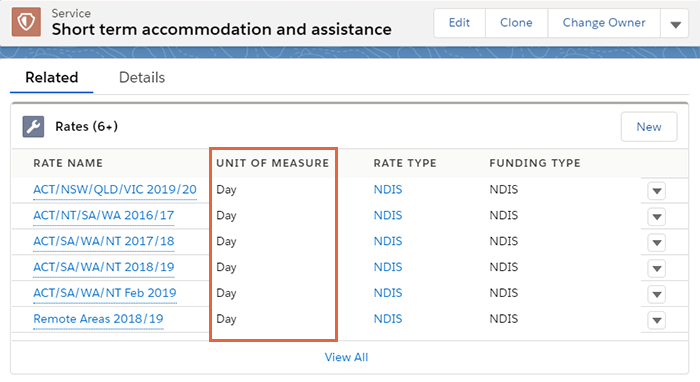 The ScheduledBatchJobs job can be set up to automatically create service delivered (SD) records for planned services on the Beds Calendar.