This article explains how to set up NDIS service agreements to claim from multiple funding management sources.
This functionality requires a system administrator to activate the Lumary Setting.
When the funding manager override has been activated, NDIS service agreements can draw on multiple funding management sources for services.
Once activated, a Funding Management picklist field appears in the Delivery Information section of the New Service Agreement Item form. Selections made using this field can override the service agreement's funding management setting.
To set up services with multiple funding management sources:
When you're adding your service line item, scroll down to the Delivery Information section. You should see a Funding Management picklist. Use this field to indicate the funding management source for this service.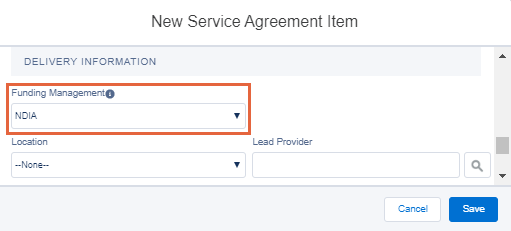 If you create two line items with the same service, you'll be prompted to select the funding management source when you create a session or service delivery entry.