The purpose of this article is to help you understand what the overall DEX reporting process looks like in Lumary CM, and the steps that you need to work through in order to produce a DEX extract.
To successfully generate a DEX extract in Lumary CM you need to make sure that:
clients and services are set up correctly for DEX reporting, and
the fields that are used in DEX reporting are completed.
The flow chart below shows you the main steps in the DEX reporting process. You can find out more about the steps and access related articles in the brief summaries following the flow chart.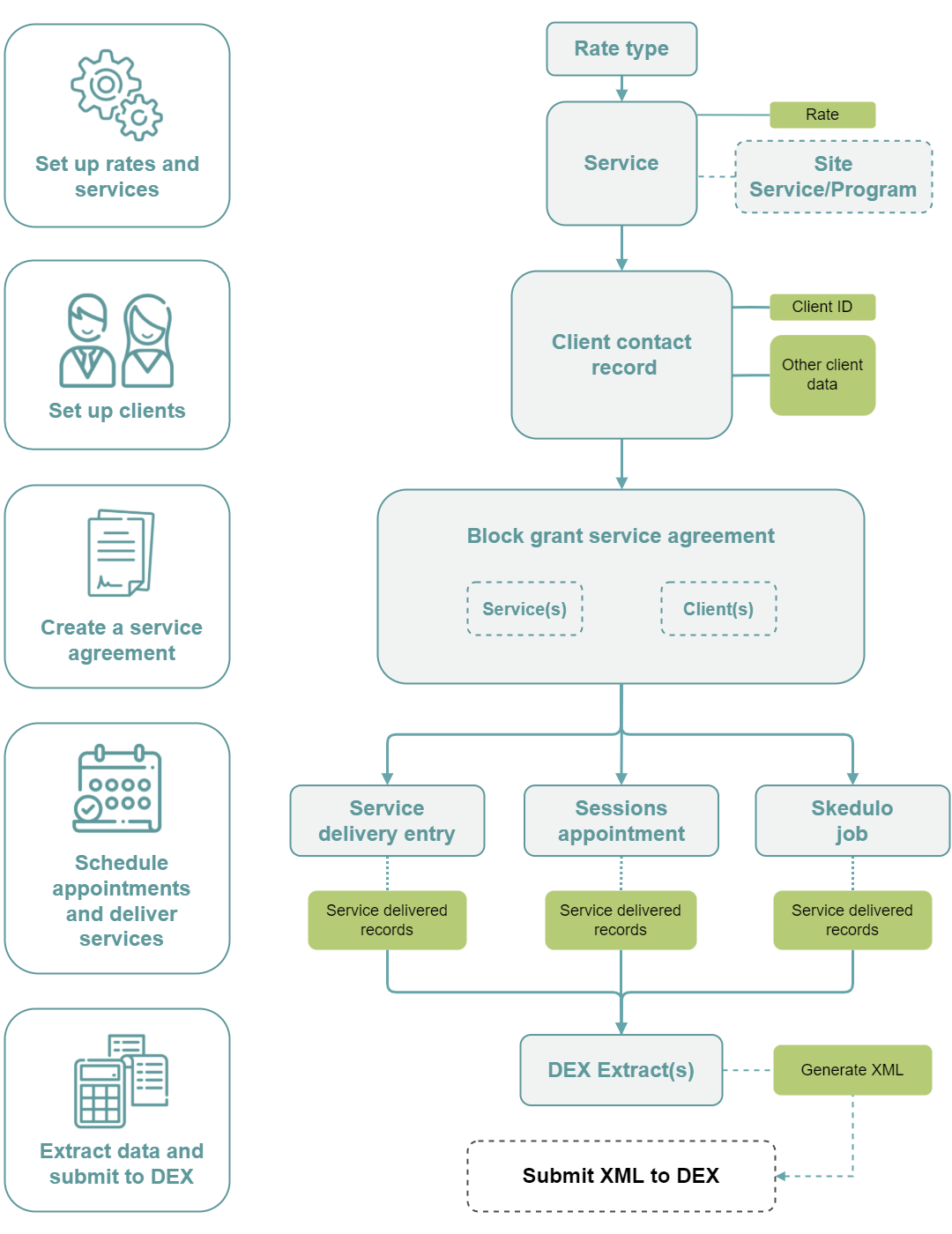 Set up rates and services
The first step is to make sure that the rates and services that you use with clients have been set up for DEX reporting. This means checking that the rate has been enabled for DEX reporting and that a DEX case structure has been set on the rates and on any services.
Set up clients
The next step will be to set up your clients' records for DEX reporting. You'll need to check that each client's contact, demographic and medical details are populated. You'll also need to generate a DEX client ID, which is a mandatory field for DEX reporting. Most importantly, you'll need to record that the client has provided consent to share their information.
Create a service agreement
Once the clients have been set up you can create block grant service agreements to capture data for DEX extracts and XML. Once you've created a service agreement you'll need to add categories, service items and rates and then the details of the funded clients. The system will auto-generate a funded client id (FSCC) which is used to populate the CaseId of group sessions in the DEX XML of some programs.
Schedule appointments and deliver services
Following the creation of a block service agreement, you can deliver the services outlined in the agreement by creating individual appointments or group appointments in the Sessions Calendar, or by using Skedulo. Once these sessions have been completed, service delivered (SD) records will automatically be created for them.
For services that don't require an appointment to be scheduled, you can manually create an SD record.
Extract data and submit to DEX
The final stage, once service delivery records have been generated, is to create the DEX extract and generate the extract file. This will be in the form of an XML file that you can then upload to the Data Exchange.
If you want to find out more about the fields that are used in DEX reporting, a good place to start is with the DEX XML mapping to CM fields article.