This article explains how to record the details of a possession for an aged care client.
In Lumary, you can record details of any items that have been purchased for a client or that you are renting/lending to them. You can also link the possession to a client goal.
The functionality described in this article requires the activation of home care package (HCP) features in your production environment.
To add a possession for a client:
Navigate to the client contact record and click on the Accommodation tab. If this tab isn't visible you may need to look under the More tab.
In the Client Possessions section, click on the New button.

Add the name of the possession and any other relevant details. The Client field should be auto-populated with the client's name.
If you want to associate the item to a client goal, click in the Goal and Outcome field to search for the name of a goal.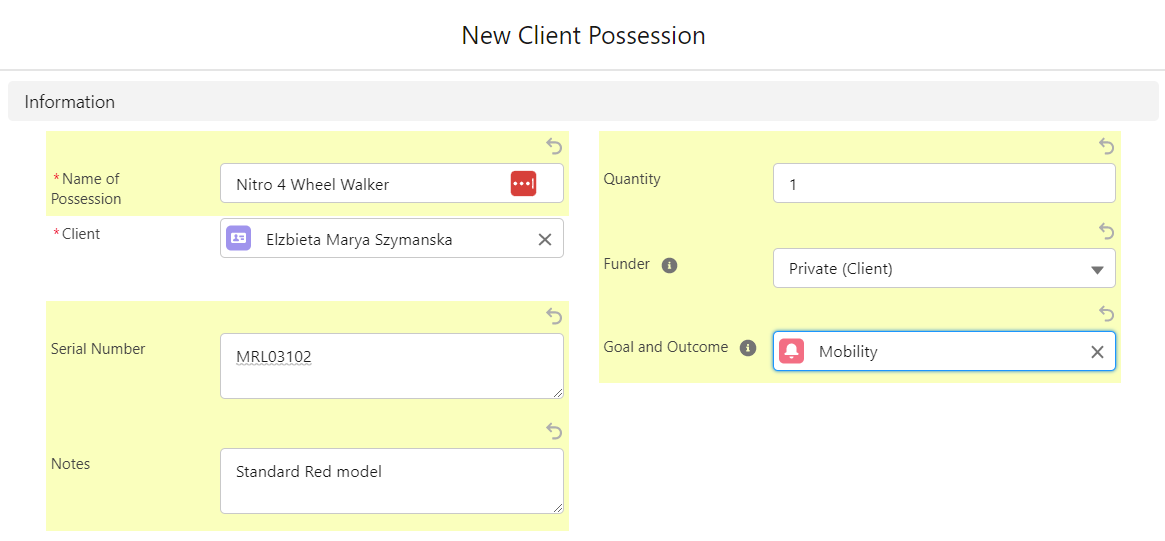 Complete the Purchase Details or Rental Details section as appropriate, depending on whether you've purchased the possession for the client or have entered into a rental agreement with them.

You can create a purchase order in Lumary and add the details to the possession record.
Complete any other details as required. Then, click the Save button.
The possession will be listed in the Client Possessions area. To edit, click the down arrow at the end of the row and select Edit.