This article explains how to create a service request so that a client can be assessed or waitlisted for recommended services. It replaces the Set up Service Requests article.
Recommended and required services can be tracked through service requests. This could be:
during an initial assessment of the client's needs, or
when an existing client requires more services.
Service requests can be used to indicate that a client requires further assessment or is waiting for services to become available. They can be added to intake or client contact records. To make a service request:
Navigate to the relevant intake or client contact record.
Intake records can be found by clicking on a client's name on their enquiry record. Client contact records can be found by clicking on the Contacts tab.
Click on the Contracts tab. You might need to click on the More drop-down arrow to find the Contracts tab.
Scroll down to the Service Requests section and click on the New button.

This will open the New Service Request form. Select the record type that describes the type of support the client will require. Then click on the Next button.

The Client and Date Requested fields will be auto-filled. The Status field defaults to Pending. The table describes some of the other options.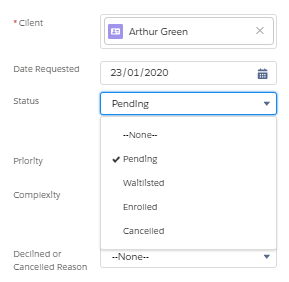 | | |
| --- | --- |
| Status | Use |
| Pending | The request requires further assessment. Pending requests can be listed on the Service Requests list view. |
| Waitlisted | Services are not currently available and the client has been added to a waiting list. Waitlisted requests can be listed on the Service Requests list view. |
| Enrolled | The client has been accepted and enrolled into the relevant services. |
| Cancelled | The request has been cancelled. A reason for the cancellation should be added to the Declined or Cancelled field. |
The Priority and Complexity fields allow you to indicate how urgently the service is required and the complexity of the client's requirements.
If the service request requires consent, click in the Service Request Consent field and start typing the name of the person who provided the consent. If you are unable to find them, click on + New Contact to create a new record.
The rest of the fields should be updated when the request is assessed and the client is waitlisted or enrolled, or the request is declined. Click on the Save button.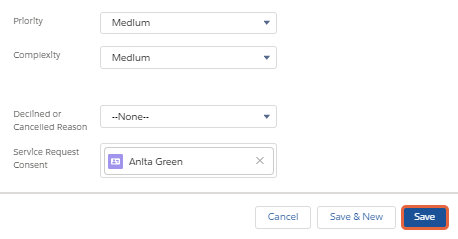 The request will now be listed under Service Requests. To edit this record, click on the drop-down arrow at the end of the row and select Edit.

Keeping service requests up-to-date will help you to manage your services and capacity. Find out how to update and finalise service requests.