This article explains how to create and update a printable PDF version of the client's details.
If you require a physical summary of a client's information, the system enables you to create a formatted PDF that you can download and print. Your system administrator can add and remove fields to adjust the document to your organisation's requirements.
To create the summary PDF:
Navigate to the client's contact record under the Contacts tab.
Click on the drop-down arrow at the top of the record.
Select Update Summary PDF.
The system uses the same button for creating and updating the PDF. Even if you haven't created the PDF yet, you'll need to use the Update Summary PDF button.

A summary of the client's details will now be created or updated. You can find this file by clicking on the Files tab.
The PDF will be listed as ClientSummary followed by the date of the most recent update. To ensure you have the client's latest details, make sure that this is the current date. If not, you may need to click on the Update Summary PDF button again.
To open and download the PDF, click on the name of the file.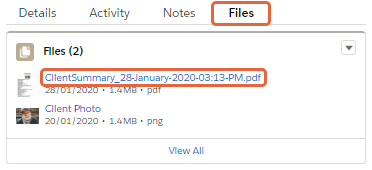 This will open a PDF viewer. Click on the Download button to download a copy of the PDF to your computer for printing.
Make sure you follow your organisation's privacy policy when printing and/or storing your client's personal information.