This article explains how Substitute New NDIS Rates works and how to use the setting to automatically apply updated NDIS rates to existing service agreements.
When the NDIA releases updates to their NDIS price guides, we add all of the rates as new rates with the Start Date set to the date from which the NDIA has listed them as effective or valid. We also expire all of the previous rates by updating their End Date to the last date those rates were valid.
Service delivered (SD) records generated for existing service agreements will continue to use expired rates, unless:
the service agreement is amended with the updated rates, or
your system is set up to substitute new NDIS rates.
If Substitute New NDIS Rates is enabled and the rate on a service agreement has expired:
automated processes will select the latest active version of a rate when generating SD records, and
the Service Delivery Entry form will display the version of the rate shown on the service agreement, but will substitute the latest rate when the SD record is created.
If more than one rate is currently active for the same rate, automated processes will select the most recent version of the rate.
Important notes on substituting new rates
Editing the names of rate records can cause issues with the Substitute New NDIS Rates functionality. This is one of the reasons why we strongly advise against manually modifying NDIS rates.
This functionality will not affect negotiated rates that have been set on service agreement line items (SAIs). The system will continue to deliver these services at the negotiated rate.
Where a pricing update introduces price increases, you may need to discuss these with affected participants before claiming from the myplace portal.
To automatically apply updated NDIS rates:
Click on the App Launcher.
Click in the Search apps and items... field.
Type lumary.
Click on the Lumary Settings text link.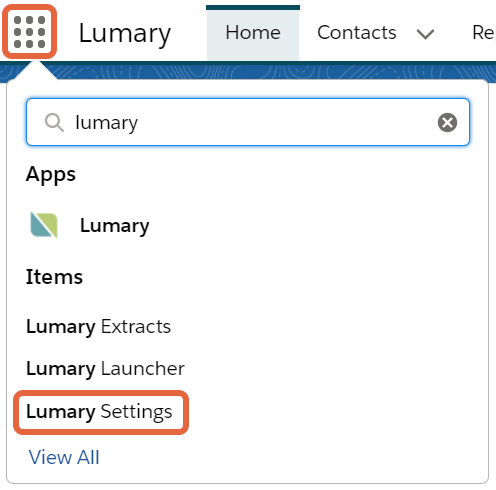 This will open the Settings section. Click on the SERVICE AGREEMENTS tab.
Put a tick in the Substitute New NDIS Rates checkbox.
Click on the Save button.