This article explains how to resolve issues associated with users being unable to log in to the system.
If a user is unable to log in, it may be because they have:
forgotten their password
entered the wrong user name or
not logged in within the 24 hours required after their initial setup.
To resolve these issues, we need to:
review the user's login history and
unfreeze their account, reset their password or direct them to the Forgot Your Password link.
To do this:
Click on the setup icon and select Setup.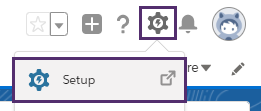 Under ADMINISTRATION, click on the Users drop down menu.
Click on the user's Full Name text link.

Scroll down to the Login History section.
Look at the Status column and check the status for the most recent login attempt, which will be at the top of the list.

If there is no record of the login attempt, the user may be using the wrong username. Check their Username on the All Users screen (see step 3 above) and advise them to try using that username to log in.
If the status is User is Frozen, they have exceeded the maximum number of login attempts. You will need to:

scroll back up to the User Detail section
click on the Unfreeze button and
advise the user to use the Forgot Your Password link.

If the status is Invalid Password, you can either:

scroll back up to the User Detail section and click on the Reset Password button then OK, which will email the user a link to set a new password or
advise the user to go back to the login screen and click on the Forgot Your Password? text link.