This article explains where to apply the setting that enables funding management to be selected at the line item level of NDIS-funded service agreements.
Funding management can be set to allow different funding management types to be set at the service item level.
Once this setting is enabled and used in a service agreement, it can no longer be disabled. This is to avoid issues with changes to the setting affecting active service agreements.
To activate this functionality:
Go to the App Launcher.
Under All Items, click on the Lumary Settings text link.
Click on the Service Agreements tab.
In the list on the right, put a tick in the checkbox next to Service Agreement Item Funding Manager.
Click on the Save button.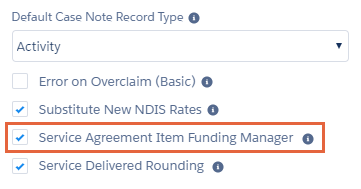 Users should now be able to see the Funding Management field in the Delivery Information section of the New Service Agreement Item form.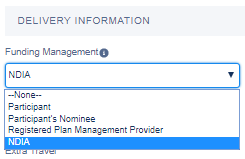 This will mean that changes to the funding management setting at the base level of a service agreement will no longer affect support categories or service line items. If you're changing funding management on an existing service agreement, you'll need to make the changes at the category and/or service line item level.