This article explains how to create service delivered records for services that are not included on a client's service agreement.
Your organisation may deliver some services outside of service agreements. For example, you might provide a service to a client that is invoiced to the client directly. Service delivered records for these types of services can be created as ad hoc services.
For a service to appear as an ad hoc service, it must have a tick in the Service is Ad hoc only checkbox on the service record. This will also prevent the service from appearing on service agreements, so you may need to create a copy of some services. Your system administrator can add new services.
To create an ad hoc service delivered record:
Click on the Service Delivery Entry tab.

If you can't see the Service Delivery Entry tab, you may need to use the More drop-down list. If you still can't find it, you may need to click on the App Launcher and search for Service Delivery Entry to open the Service Delivery Entry page.
In the Services Delivered section, click on the Add Adhoc Service button.

This will launch the Add Adhoc Service form. If you want to track the worker who delivered the service, click in the Worker field and search for their name.
Client Name is the first mandatory field. If you start typing your client's name, it should appear in the list below the field.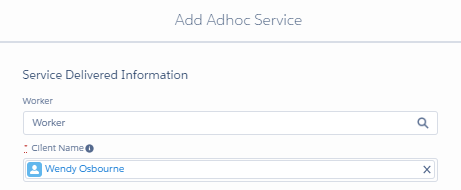 Mandatory fields are marked with a * red asterisk. As you make selections, additional mandatory fields may appear. You'll need to fill them in to activate the Save button.
Click in the Service drop-down list and select the service.
If your service has a negotiated rate, this will reveal negotiated rate options. You only need to use this if you want to charge a rate different than the one attached to the service. To activate these fields, put a tick in the Use negotiated rate checkbox.

For most services, you'll need to add a quantity or amount to the Quantity/Amount field. The units used here will depend on the service you've selected. For example, the unit of measure on the rate for the service we've used in our example is hourly. This means we'll enter the quantity as a number of hours.

The travel and transport fields have complex requirements and functionality. If you need to create service delivered records for travel and transport, check out the articles in the travel and transport service delivered records section.
Fill in any other relevant fields, like Comments and Case Notes.
Once you've filled out all of the mandatory and relevant fields, click on the Save button.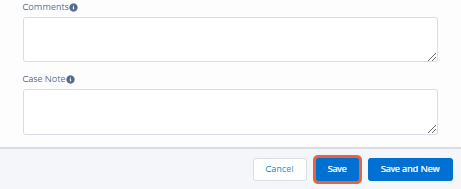 This will create a service delivery record. You can extract this to your financial package or send it to the cart.