This article explains how to sign into the Skedulo Console to schedule jobs and assign resources. This process will need to be done by each user the first time that they use the console.
To sign into the Skedulo Console:
Click on the App Launcher icon in the top left corner of the web app.
In the drop-down menu, type Skedulo Console into the Search field.
Select Skedulo Console from the search results. This will open the Skedulo Console. If you get an error here, skip to step 8.
Click on the down arrow on the Skedulo Console tab.
Select Add "Skedulo Console" to Nav Bar. This will pin the tab in place so that it will automatically be present every time that you access the web app. If you do not pin the Skedulo Console tab to the Nav Bar, then the above steps will need to be repeated to access it again.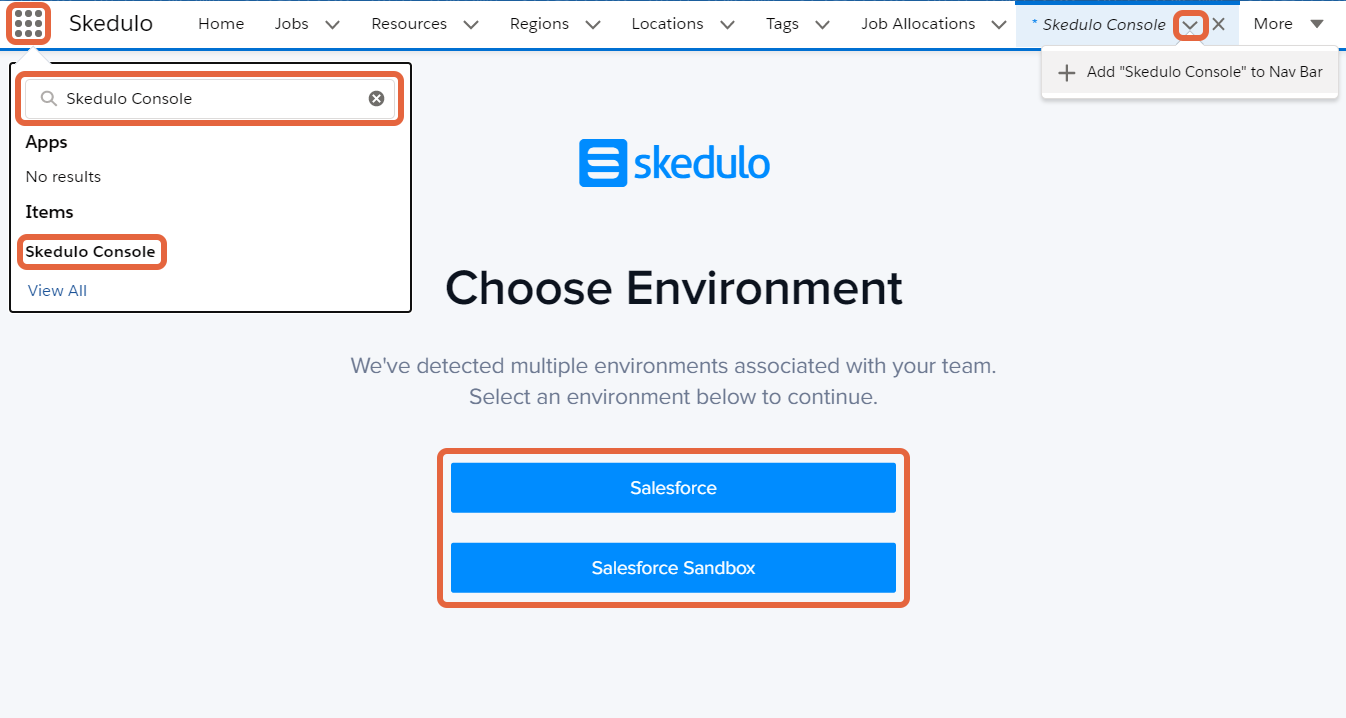 A message will appear asking you to choose your environment. Click on Salesforce if you are in a regular production environment or Salesforce Sandbox if you are in a sandbox environment.
The Skedulo Console will load, showing the current jobs and resources calendar.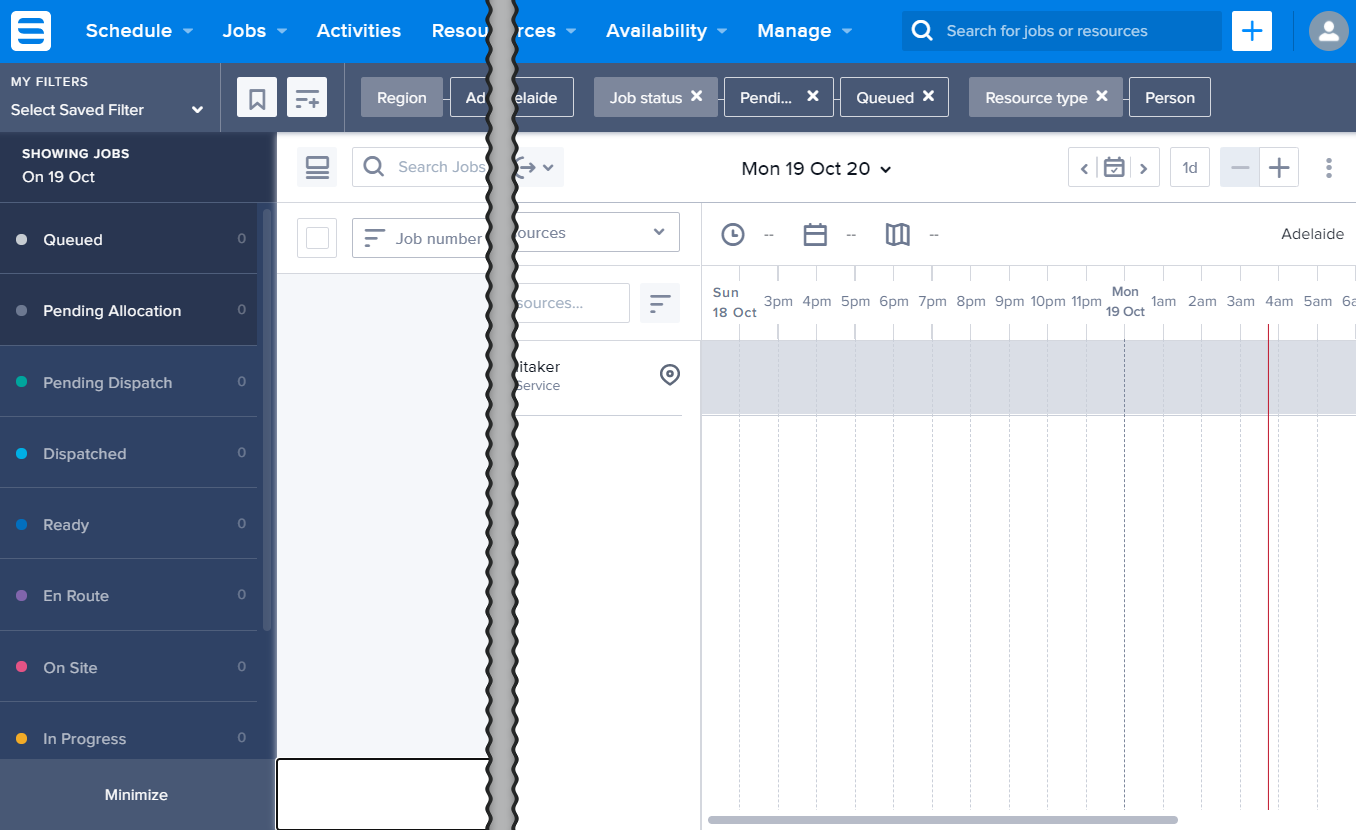 I'm getting an error!
In some cases, attempting to open the console or clicking on one of the Salesforce environments will either result in an error or cause the same page to repeatedly reload. In these situations follow the extra steps below to sign into the Skedulo Console.

Open a new browser window or tab and go to https://new.skedulo.com/.
Click on the Salesforce text link. This will bring up the same screen to choose your Salesforce environment as shown above.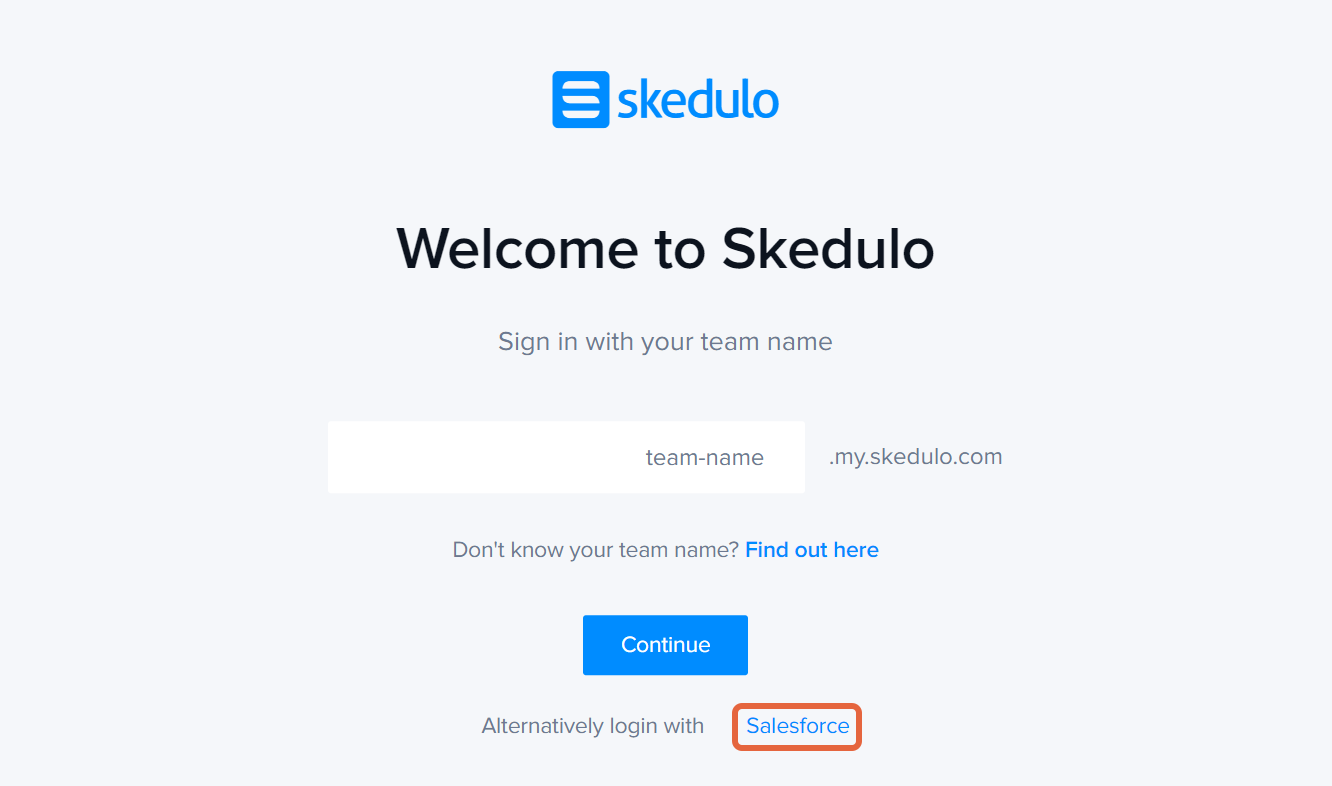 Click on one of the blue buttons to choose the appropriate environment. You may need to do this twice.
The Skedulo Console will then load in this new tab or window. If you are happy to use the console in a separate window then there is no need to open it within Skedulo.
If you want the console to open within the original Skedulo web app, return to the previous tab or window and refresh that page. Don't close out of the other tab until the console has successfully loaded. The Skedulo Console should now be open within Salesforce.
Once you have set up the console, the required authentication token will have been cached in your browser session, so logging in or refreshing in another browser to access the Skedulo Console will now be possible. However, to access the console again after shutting down or logging off of your computer, you may need to repeat these steps.